The cowboys are here! Yesterday marked the start of the National Finals Rodeo, a 10-day extravaganza celebrating the best ranching skills on both the human and livestock sides. Only the top 15 compete in each of the seven events at this acme of rodeo. Tie-down roping, anyone?
This is year 30 for the NFR Finals in Vegas. Remember that great final love scene at the NFR Finals in George Strait's movie, Pure Country? But I digress.
There are free concerts after the competition all over town but I favor the South Point Hotel, Casino and Spa. The Dance Hall is the home of the nightly Buckle Ceremony, where the winners receive their hard-won victory buckles (see below). Flint Rasmussen, the best dancin' clown in rodeo, and Randy Corley, a PRCA Announcer of the Year, give out the buckles.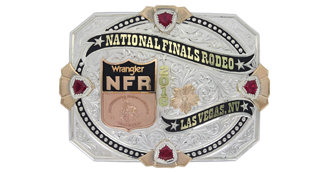 Ceremony starts at 11 p.m. and of course it's FREE!
But this is a two-fer. There is a FREE concert after the show. Because everyone dances at cowboy events. I should know since I spent 23 years in Dallas. How do you think I got my two first names? You need two first names to get a driver's license in Texas. Just kidding.
Oh, and Aaron Watson performs for FREE in The Showroom earlier in the evening, giving you something to do before the big shindig.
Ye haw, Las Vegas.
[pw_map address="9777 South Las Vegas Boulevard Las Vegas NV 89183″]
((hugs)) BETH Ellyn
THE Las Vegas Real Estate Concierge
702.758.4318  Talk. Text. SMS. Video chat
beth.rosenthal@exprealty.com  Google hangouts
Las Vegas Proppportunities  Facebook Business Page
@yale1974  Twitter
BA: Yale
MS: Columbia
MBA: L'ecole du Hard Knocks
Licensed in Nevada since 1996: I have previous!
When competence AND creativity matter!
The following two tabs change content below.
Hello from the Las Vegas Real Estate Concierge. I am a real estate broker. Doting mother. Pioneer Yalie (graduated in the first class of women.) Wild yam cream creator. Zumba fanatic. Dog lover and service dog handler. But most of all I love Las Vegas. Come visit
Latest posts by Beth Ellyn Rosenthal (see all)