Getting free liquor in Las Vegas is as easy as, well, breathing. Just sit down at a poker table or slot machine, play a few hands and the cocktail waitress will be by with any  refreshment care of the casino who will be taking most of your money.
But today's suggestion ups the ante. How would you like to learn more about whiskey? Want to know how whiskeys originated in America, Ireland and Scotland and how bourbon, Irish whiskey and Scotch differ from each other? And then taste some of the finest examples from each of these categories as the lecture progresses?
Then show up tonight –or any evening–at 7 pm at VomFASS's Whiskey Experience Class. No need to sign up; just show up. I did say FREE right?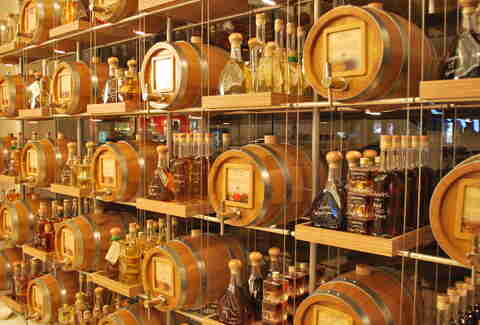 Two rules:
You can't already be intoxicated when you appear
You can't interrupt the host while s/he is talking "to respect the other attendees' desire to learn."
You can get free samples from the kegs at any time, but the education only happens at 7 pm.
Of course, if you decide to take any of these bottles home, you know that's not free. The store also sells exotic vinegars and oils as well as wine.
VomFASS is at the Grand Canal Shoppes at the Venetian.
Have a GREAT week-end, Las Vegas.
[pw_map address="3377 South Las Vegas Boulevard Las Vegas 89109″]
Want a list of foreclosures and distressed homes in Clark County? Sign up for a weekly email:
Want to learn what I think will happen to Las Vegas real state now that the Raiders are coming? Check it out:
http://bethellynrosenthal.nv.exprealty.com/blog/How+Will+The+Raiders+Move+Affect+Vegas+Real+Estate
((hugs)) BETH Ellyn
THE Las Vegas Real Estate Concierge
State Managing Broker, Nevada
702.758.4318 Talk. Text. SMS. Video chat
beth.rosenthal@exprealty.com  Google Hangouts
@yale1974  Twitter
BA: Yale
MS: Columbia
MBA: L'ecole du Hard Knocks
Licensed in Nevada since 1996: I have previous
When competence AND creativity matter!
The following two tabs change content below.
Hello from the Las Vegas Real Estate Concierge. I am a real estate broker. Doting mother. Pioneer Yalie (graduated in the first class of women.) Wild yam cream creator. Zumba fanatic. Dog lover and service dog handler. But most of all I love Las Vegas. Come visit
Latest posts by Beth Ellyn Rosenthal (see all)