Next week-end is Memorial Day, when throngs of tourists who pay our school taxes (We love our tourists!) descend on Las Vegas. So most locals will probably avoid downtown. So why not head there tonight?
My fav downtown is The Container Park in the Fremont Street East District. The Container Park is an endearing, funky shopping center made of containers piled three high, the brainchild of Tony Hsieh, he of Zappos fame. In addition to unusual stores, there are seven restaurants and an entertainment plaza.
You are greeted by a metal fire-breathing preying mantis that crawled to Las Vegas from the Burning Man Festival.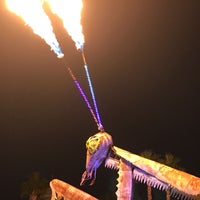 The 40-foot long sculpture comes to life each night with some mechanical movement and periodic fearsome blasts of fire shooting out of its antennae. You can feel the heat and hear the ominous gasps a block away. It's controlled by an operator who waits for opportune moments to scare the you-know-what out of unsuspecting passersby.
Watching them is half the fun. Who remembers Candid Camera?
The fire fight starts with a drum circle around the sculpture. Translate: an exuberant performance by kids and adults who want to act like kids banging on stuff. How un-Vegas!
If you stay after dark, The Wild Sparrows and the Orange Feathers, two local bands, perform. Everyone under 21 has to turn into a pumpkin at 9 o'clock, however.
I did mention all of this is FREE, unless you go shopping, of course.
Have a great pre-Memorial Day week-end, Las Vegas.
[pw_map address="707 Fremont Street Las Vegas NV 89101″]
Should sellers pay for their own home inspections? Read why I think the answer is YES!
http://bethellynrosenthal.nv.exprealty.com/blog/Should+Sellers+Pay+For+Their+Own+Home+Inspections
((hugs)) BETH Ellyn
THE Las Vegas Real Estate Concierge
State Managing Broker, Nevada
702.758.4318  Talk. Text. SMS. Video chat
beth.rosenthal@exprealty.com  Google Hangouts
@yale1974 Twitter
BA: Yale
MS: Columbia
MBA: L'ecole du Hard Knocks
Licensed in Nevada since 1996: I have previous
When competence AND creativity matter!
The following two tabs change content below.
Hello from the Las Vegas Real Estate Concierge. I am a real estate broker. Doting mother. Pioneer Yalie (graduated in the first class of women.) Wild yam cream creator. Zumba fanatic. Dog lover and service dog handler. But most of all I love Las Vegas. Come visit
Latest posts by Beth Ellyn Rosenthal (see all)