This week OpenTable.com released its list of the Top 100 Scenic View Restaurants in the US. More than five million diners submitted reviews to the reservations Web site, voting for 15,000 restaurants in all 50 states as well as the District of Columbia. The winners had jaw-dropping views and jaw-delighting food.
The vast majority of the restaurants were on the banks of rivers, lakes or oceans. Las Vegas, however, sits in the high desert. But we have a spectacular sea of lights. So it was no surprise that three Las Vegas eateries made the list. All were on the Strip, of course.
All three offer sky-high vistas that are particularly arresting at night. They include:
The Eiffel Tower Restaurant at the top of the Paris Hotel and Casino (11th floor)
Mandarin Bar at the top of the Mandarin Oriental in CityPlace (23rd floor)
Top of the World Restaurant at the top of the Stratosphere (800 feet above ground level or 73 stories) This restaurant revolves so you can see everything in the Las Vegas valley if you eat slow enough.
All serve amazing, uber expensive food, although the view is free.
This is the view from the Mandarin Bar looking east.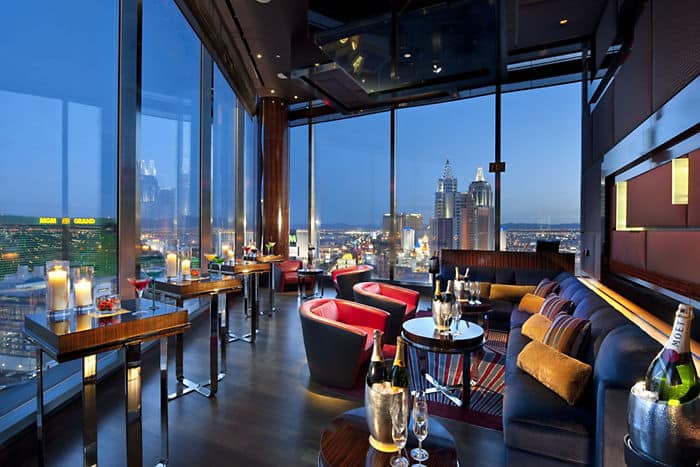 ((hugs))
BETH Ellyn Rosenthal
The Las Vegas Real Estate Concierge
Managing Broker, Nevada
eXp Realty, LLC
702.492.0531 Office
702.324.6911 Cell and text
bethellyn Skype
beth.rosenthal@exprealty.com
@Yale1974 Twitter
The following two tabs change content below.
Hello from the Las Vegas Real Estate Concierge. I am a real estate broker. Doting mother. Pioneer Yalie (graduated in the first class of women.) Wild yam cream creator. Zumba fanatic. Dog lover and service dog handler. But most of all I love Las Vegas. Come visit
Latest posts by Beth Ellyn Rosenthal (see all)